UNDER CONSTRUCTION - As long as this sentence is at the top of the page there is the hope (no matter how faint it may seem at times) that I will be back and finish the words and pictures.It only needs a few more pictures added, a lot of pictures sorted and captioned and a lot more words, but it is getting there. Patience, dear reader.


We started September with the last of our departure preparations for the Alaskan cruise and for a stint of grandchild minding and for the likelihood of a camp job for Paul that would mean going straight to Fort McMurray the week following our return from the cruise and then straight from that to the drive south for the winter.

We aren't much for parties for our special occasions. We don't mind attending somebody's xth anniversary or birthday party, but neither of us particularly want to be the center of attention at some head table in some hall somewhere no matter how well meaning the crowd. Nevertheless we had been pondering if we should do something special to commemorate the 35th anniversary of Juanita succumbing to my hard sell.

When the Cruise Direct e-newsletter arrived in the Thunderbird in-box with ridiculously low prices for cruises to Alaska we had our answer and signed up for the cheapest they had. It was priced so low due to the Labour Day weekend air fares to Vancouver being high and school being back in and end of season, but we had Aeroplan points and no school kids of our own to worry about bringing along. Not to mention that the prospect of others not bringing theirs was not a negative. The weather could take care of itself. Which it did very nicely, by the way, but I'm getting ahead of the story.

One other thing that came with the low price was an inside stateroom - no window to the world. Hadn't tried that before, but for the price difference we were willing to try now. Later, when the last minute e-mail came offering us the chance for an inexpensive upgrade to an outside cabin with unobstructed view we decided to try that instead. Good things come to those who wait. Who wait for the offer, that is. If we had waited to act on it when the offer came in we would have had our inside room experience for the inside passage voyage. We responded immediately to the e-mail and will have to leave the inside room experience for some other time.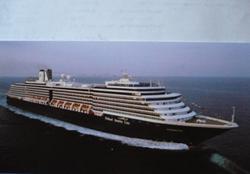 m/s Zuiderdam

We were booked on the ms Zuiderdam, one of the "dam ships" of the Holland America Line. It was built in 2002 so was in pretty good shape other than for some shabby upholstery in the Queen's lounge seating. No, we didn't hang out in the bars (other than for a couple of karaoke appearances). That lounge did dual duty as a location for lectures on the geology, geography, history and wildlife of the area.

The lecturer was pleased to add to his repertoire the explanation of candlefish that Loyal Young provided me many years ago. The candlefish or eulachon is a very oily fish that native Americans used to dry and then use for lighting as well as food source. As Loyal explained to me you could light either end. It depended on if you wanted a head light or a tail light.

We seldom made it into the lectures themselves, but they were available on the TV in our stateroom while they were occurring and on a continuous loop on that channel at other times. We learned a lot, but chose our time for live lectures for when there were not other more urgent events like dining or trivia contests. The average cruise passenger gains a pound in body weight for each day of the cruise. We were careful and only gained half that so somebody else probably took one for the team and gained a bit extra to keep up the average. I think I could probably pick them out at dinner.


We were scheduled to board the ship Saturday afternoon, but left Meadow Lake Wednesday morning so we could get some shopping and business out of the way before our early flight to Vancouver on Friday morning.

Overnight in Nisku

Five finger shoes and airport security

Flight to Vancouver

Cab to hotel

Early check-in at hotel

Walk to False Creek

Water Taxi

Granville Island

Walk to Tilley's store.

Bus to downtown

Bus to Kootenay Loop

Walk to drug testing lab in Burnaby for RSAP test

Meet sister for coffee in Burnaby?

Bus to Chinatown

Walk around gastown

Walk to cruise ship terminal

Walk to hotel

Saturday - walk around downtown

Cab to cruise ship terminal

Getting on ship,

Excited (surprised myself),

Old familiar waters, Sechelt, West side of Texada Island

Talking to sister in Powell River as she watched lights of cruise ship in the gap between Texada and Harwood Islands

Lights of Courtenay and Campbell River


Tracy Arm was our first "destination" on this cruise. We had steamed motored overnight up between Vancouver Island and the myriad of islands separating it from the mainland, across the open water to the inside passage and spent a day and a night getting north of Prince Rupert and into American waters.

We arrived at the entrance to Tracy Arm before breakfast. Commentary started on the public address system and was available in the rooms on one of the TV channels. There were whale sightings annouced and then the ship entered the fog at the mouth of the arm (that doesn't seem to make anatomical sense) and came out the other side in "ooh and awe" territory as the ship was able to get up close but not too personal in the deep waters where the coast range mountains dipped their feet into the ocean. There's that anatomy thing again. There were some seals and bears and ice floes sighted. Great excitement over this, especially for the many Australians aboard. For me it was like being home again. Kinda nice.


There are so many choices of activities and people tend to gravitate to what interests them so it never seems as crowded as one expects with so many people on board.

Our cabin was about as low as you could go in the passenger area of the ship and toward the back. We settled into a routine of up early and walk the length of the ship and climb ten floors to the spa exercise room, weigh ourselves and go back down a few decks and walk the length of the ship the other direction and hit the informal dining room. While Juanita went for our coffees I would go and order our custom omelettes and watch them made with the chosen ingredients, mine with egg beaters, hers with eggs. After that we always seemed to have something to do whether from sight seeing on shore to trivia contests on board.

Concerning trivia - I didn't seem to have trouble getting on a team. People recognize trivial people when they see them. It's funny though, the thrill of winning is eclipsed when you are back home in your full-time RV lifestyle and you are wondering what to do with all the useless Holland America logo'ed junk you won. You fought so hard for it, but you don't really need it and it takes up space. Oh well, it could be worse. It could be a mirrored ball on a stick. A bit of an analog of life. You don't see hearses pulling U-Haul trailers.

With formal and informal dining rooms and nooks and crannies and a library you can maintain a variety of experience to not get bored on a week long cruise. Several weeks might get somewhat repetitive. Such a problem, to have compared to the problems one could have! As a pinch faced table mate from Kelowna said about dessert night, "This is obscene with so many starving people in the world." Maybe, but it didn't seem to stop her from eating her share. Nor me.


Juneau - AK state capital

on island

largest state capital by area

years ago voted to move to mainland, but never voted the money to do that so it stays on the island

walked around town

took tramway up Mt. Roberts

started to sit in on show in theater at top then ducked out playing hooky on hokey

walked paths looked at displays and read signs about ecology of area


Skagway was the gateway to the Klondike gold rush. First for people on foot over the Chilkoot and later by the White Pass and Yukon Railway. My grandfather Hunt went to the Klondike. Based on the timing of the copy of the claim registration he probably traveled by rail. I don't know as I was just old enough to remember him showing me his pictures of Dawson City and the stern wheelers on the shore. He died before I reached an age where I knew which questions to ask. My mom who is pretty alert for a 101 year old can't answer them either. She just knows he went there and met Robert Service and Klondike Kate, but has no idea of the route. Nevertheless it meant that Skagway has an emotional connection for me.


White Pass & Yukon & Railway
We rode the train past the summit to Fraser Lake, B.C. and then took the bus back. The bus stopped at a recreated tent camp on the location where thousands of gold seekers assembled while they prepared for the journey to the gold fields. Apparently less than half who started out from Skagway made the trip to Dawson City. When you look at the remaining examples of the Trail of '98 it is amazing that the number wasn't closer to 10 percent before the railway was built. Before the gold seekers could get permission to go further into Canada they had to assemble 2,000 pounds of provisions, which they did by carrying them on their backs up the Chilkoot Pass and along the trail - 50 pounds at a time. The trail was so congested that a person stepping out of line might wait for hours to get back in.


Many cruise ships claim to go "to" Glacier Bay. The Zuiderdam is one of the few that contribute the fees and meet the environmental standards to go through the entrance and "into" Glacier Bay. The ship was met by park rangers who held talks and were available for questions throughout the time we were in the Bay. The better part of a day was spent getting as up close and personal as possible to calving glaciers and other sights. That "as close as possible" depended on season and bottom conditions. During the early part of the cruising season the ice floes close to the calving glacier are homes for seal pups. Later in the season the ship is allowed to get much closer to the calving glacier. Off one shelving shore the water was too shallow to get too close. The microscopic dots in the picture below are bears cleaning off a whale skeleton.


The only place that gets more rain than Ketchikan is Hilo, Hawaii. They tell on the previous Saturday that it will rain in Ketchikan the following Thursday. We experienced a bit of a drizzle early, but then things cleared up.

Copyright Paul W. Alton 2006 through 2019 All Rights Reserved
Amazon.ca sells everything from soup to drones.
Click on an Amazon.ca link on this site to do your shopping, kicking a few pennies our way at no cost to you.